Vale Mrs Laurel Doyle, Life Member
It is with Sadness that we advise the passing of our Life Member Mrs Laurel Doyle, peacefully on Tuesday 20 July, at the age of 94.
Mrs Doyle joined the Executive Committee of Fremantle Netball in 1962, 2 years after its establishment, and gave 27 consecutive years of outstanding service in the formative years of FNA as a volunteer to the Association, until her retirement in 1990.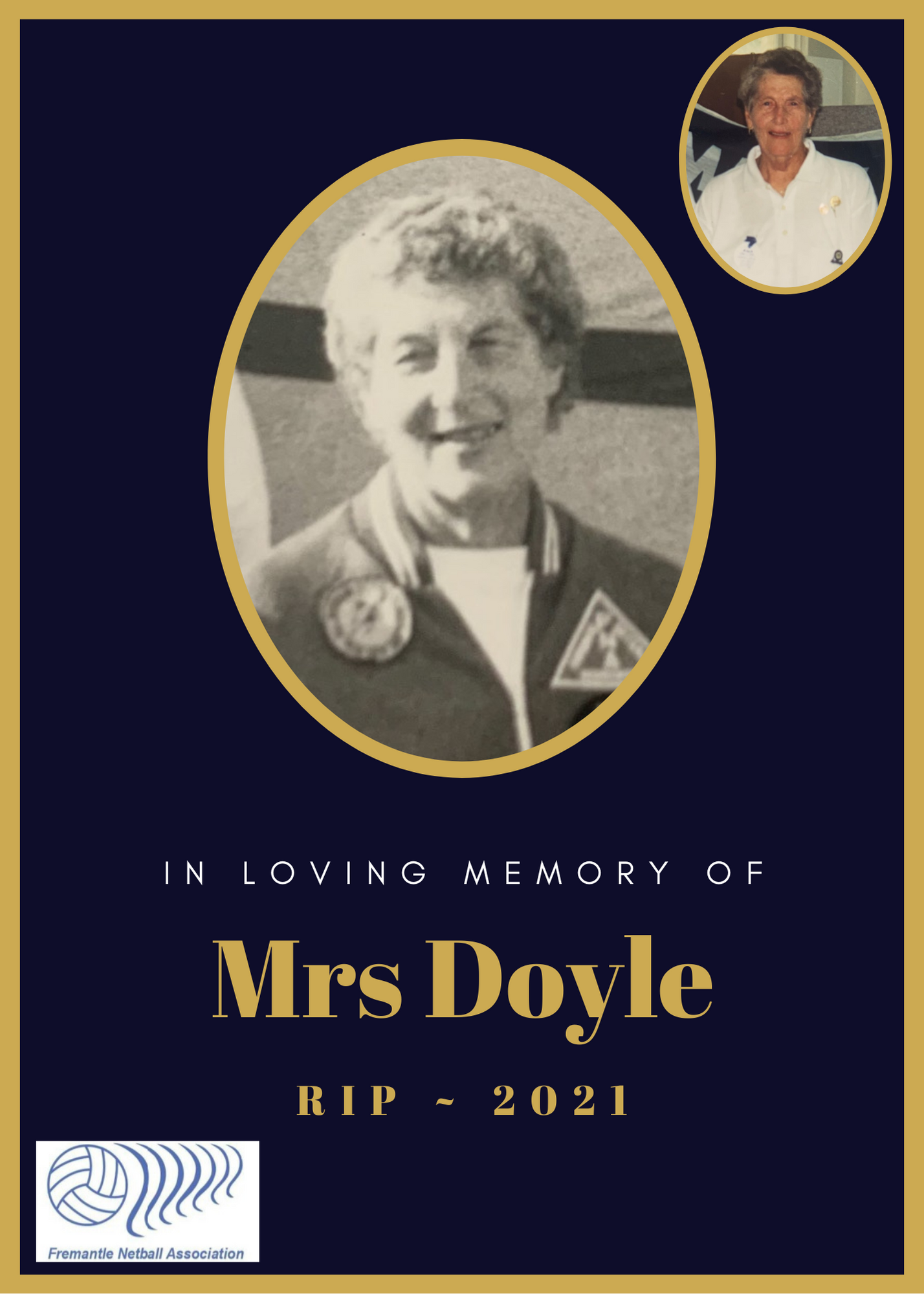 During these years Mrs Doyle was
President of Fremantle Netball for 16 years;
Umpires Co-ordinator for 4 years;
Record Keeper for 3 years;
On the Grading Committee for 27 years;
Plus she would always put her hand up for anything that needed doing.
During Mrs Doyle's time as President she treated FNA like her own business, running it very efficiently and always upper most in her mind was to make a good profit for the Association. The Association owes so much to Mrs Doyle and the ladies of this era for their forward thinking, their high principles, and their great astuteness with the finances.
Many major works were completed under her leadership including the laying of hardcourts, installation of floodlights, and various improvements to the clubhouse, office, and grounds.  She was a woman ahead of her times, in many of these negotiations it was unheard of that a woman would be involved in these type of business transactions.
Mr Ernie Doyle, her husband, was always a great support to Mrs Doyle in the background, organising much of the day to day maintenance as well as running the kiosk for many years when we moved to Gibson Park – they were a great team.
Mrs Doyle was also an excellent umpire and was the first Fremantle member to gain her State A grade umpiring badge in 1968 – no mean feat for a woman in her 40's.  She gave great service to the Association's Umpiring division and was responsible for training many young umpires who progressed on to gain their state umpiring badges.
Mrs Doyle was a member of the grading committee the entire time she was with FNA, this was an area she really enjoyed working in.
She was also responsible for the introduction of the FNA Representative Teams with our first senior team selected in 1974.  She was passionate about the Rep Teams program which has gone from strength to strength over the years, with FNA now fielding up to 18 teams each year, this would have given her great pride.
1987 saw our first and only overseas trip for our FNA Senior team to Singapore, with Mrs Doyle coming as the FNA Official.  Many a story can be told by members of the touring party. The team fund raised, with Mrs Doyle duly managing all the finances, on arrival all the players were given their "allocated lunch money" for the time in Singapore.  A couple of younger players, who shall remain un-named, thought the allowance was for each day and spent their entire allocation on day one.  After the trip there were still surplus funds left which then went into FNA funds.
In latter years, after her retirement Mrs Doyle always looked forward to our Annual Life Member's morning teas and continued to be interested to hear about our latest developments and how the Association was progressing.
At Club and Community level Mrs Doyle was also a great volunteer for many years, founding the Willagee Netball Club and was honoured with Life Membership to both Fremantle Netball Association and also to the Willagee Netball Club for her outstanding service and commitment at Association and Club levels.
Mrs Doyle had a positive influence on the lives of many young girls and women involved in netball at both Association and Club level.  She instilled the great importance of good sportsmanship, fair play, and how important it was to be respectful to all facets of our game of netball.
Mrs Doyle was also an excellent coach and over the years took many teams through to be Premiership winners, she was so passionate about her netball.
To Mrs Doyle's sons Gregory, Andrew and your families, FNA extend our sincere condolences.
­­­­­­­­­­­­­­­­­