Frequently Asked Questions
Our Winter competition is a club based competition and so you will need to contact clubs in your area to organise registration for your child. Club contacts can be found on the clubs tab on this website.
Yes FNA does allow Clubs who are single team entities to play in our Winter competition. The team would affiliate as a Club and would be treated as a Club. Contact our Administrator on 9335 3430 for more information.
Fremantle Netball Association asks members to be considerate of our local community and to to adhere to local council signage to avoid the risk of fines.
Designated ACROD parking bays are provided by the City of Fremantle. For details on ACROD parking please go to: City of Fremantle
Parking on our grassed area is charged at $2 per car on entry.  Please note we do not do pass outs for parking.
A map has been provided to assist members with parking options.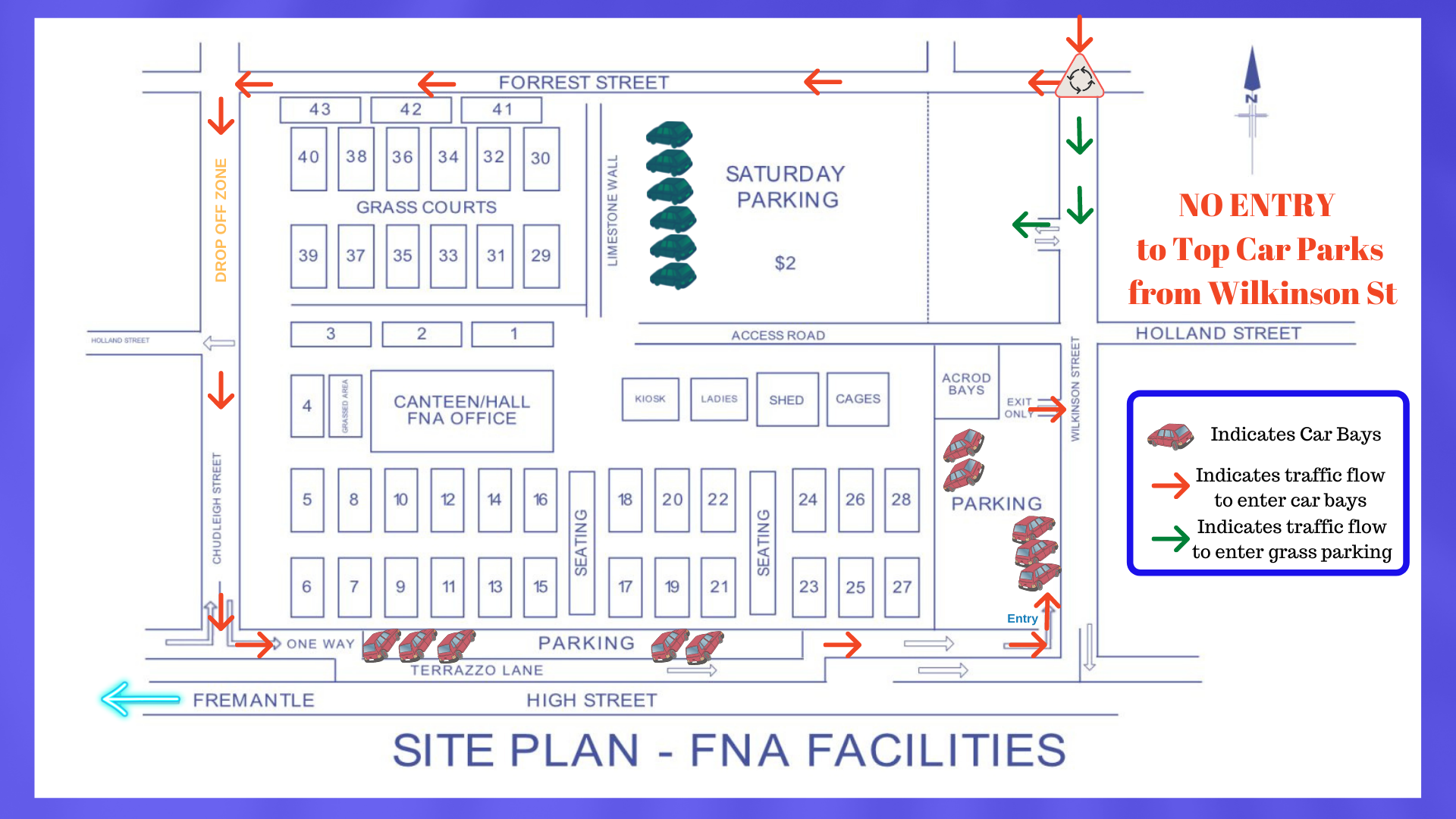 You should approach your Club Coaching coordinator and ask for assistance. FNA also run coaching courses for all levels of coaches. Our First Time Coaching course or Junior Coaching course would provide you with valuable resources and skills to help you coach your team. All coaching courses on offer can be found under the coaching tab, or email our Association Development Officer development@fremantlenetball.com.au
Your child should contact their club Umpiring Coordinator who will assist them in their umpiring at a club level. FNA run a Junior Umpire Development Program and a School Holiday program for umpires, the details of which can be found under the Umpires tab on the website. Bethan Duffill, our Umpire Development Officer, can be contacted on umpiring@fremantlenetball.com.au for further assistance
Check out our coaching courses on the coaching tab and contact our Association Development Officer, Gayle Passmore, at development@fremantlenetball.com.au who will discuss the various options open to you.
Yes you can. Please ring the administrators office on 9335 3430 who will process your payment over the phone.
Due to our large participation numbers at FNA, all representative team trials are by invitation only. Our Talent Identification committee watch games in all divisions of B, C, D and E grades and identify talented players. These players receive a letter in September inviting them to our Phase I trials in October.
Please contact our Association Development Officer, Gayle Passmore, at development@fremantlenetball.com.au who will be able to discuss an invitation for your child to one of our trial phases.
It is important that the injured person is taken to our First Aid room for assessment. Their name will also be entered into our First Aid log. This is an important record and is necessary if any insurance claim for serious injuries is made at a later date.
You can nominate one of your volunteers for a coaching or umpiring award by contacting our Umpire Development Officer at umpiring@fremantlenetball.com.au or Association Development Officer at development@fremantlenetball.com.au who will be able to guide you through the process.  Nominations are also available under the forms tab on our website